The Floating Market of Vietnam is found at the Mekong Delta. It is popular globally during the Vietnam war. This floating market is typical fo the Cai be and the Phung Hiep . When you arrive at the Delta, you need to first ride a motorized boat to come to Cai Be floating market. Here tourists as well as locals can trade commodities , food, fruits and goods.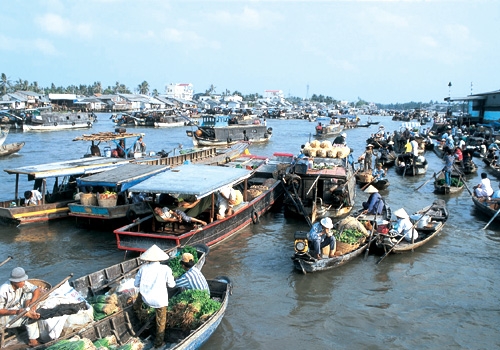 Here you will see farmers from different regions bring in their crops, vegetables and fruits to the market to sell on local dealers. Those dealers will also sell these commodities to local shops in nearby towns or to other wholesale dealers found at much bigger towns. Each big boats have poles where the seller hangs the products and the on to this pole, through this the buyers or sellers will have an idea on where they will go.
In this floating market, you will not only see sellers and buyers bargaining with commodities but here you will also find floating shops, floating gas station, floating bars, and floating restaurants. The fastest and easiest way to travel is through the canals.
The next floating market is the Phung Hiep market,it is considered as the biggest floating market in Mekong Delta. This floating market starts or opens from four in the morning to eleven in the morning. To come to this floating market you need to wake up really early and take a boat at 1 am. You need to go there very early cause if you are planning to do only a one day tour you might miss it when you are late. On ordinary days, you might see lots to bargain for at the floating market which includes pigs, snakes, turtles, mangoes coconuts, other fruits and vegetables. 4am is the start of trading and when sunrise starts you will notice that the waterway is already full of sampans of customers and sellers. Those selling small items hang in bamboo pole their samples. Buyers come from water and land and they transfer from one boat to another. Other buyers sometimes take a break by eating steaming hot bowl of noodles in sampans like fast food.
Another well known floating market is the Cai Be found in the western part of Southern Vietnam. This floating market is first formed during the 19th century of the Nguyen Dynasty. This floating market is a really busy place where locals trade their goods and are transported by means of boats or raft.
This floating market is found at the Tien River which is adjacent to the 3 provinces of Ben Tre, Vinh Long and Tien Giang. This floating market is divided into selling and buying area. There are about five hundred boats selling commodities like crops, vegetables or fruits. There area bout nearly 500 boats filled with crops like rice, vegetables, fruits, and other products that can be traded.
In as early as 3 in the morning, these floating market is already heavily populated with sellers and buyers. Traders mostly live on the river and they link their electricity through their motor generator. Every boat has a pole where they hang their goods that is why it is named CAY BEO. There are also boats that serves as taxi which is very convenient for tourists and even locals. The criss-cross canals in the Plain of Reeds, the people of here takes the commodities from each countryside and at the same time share cultural differences.
Various tours from Ho Chi Minh City to Mekong Delta which includes the floating market that has it in place to visit. For tourist who wants to make only one day tour from Ho Chi Minh City better known as Saigon to Mekong place have other tourist place where you can enjoy which can be offered by Vietnam's travel agencies.
Last words, if you are looking for authentic feel of Vietnam, visiting these two floating markets is a must place to go. Where you can enjoy not only the warmth hospitality of the Vietnamese but these is also where you can find buy things at a cheaper price all you have to do is drive a hard bargain.
John Kim is a Travel writer of Viet Fun Travel, blogger and a foodie. He writes mostly about food travel in Asia.